Quick Start Guide
JUST 3 STEPS... 2 TIMES A DAY = CLEAR, RADIANT SKIN
Here's how to treat acne blemishes using the Proactiv+ 3-Step system.
All steps are designed to be used together and consistently for best results!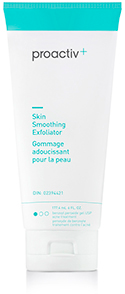 STEP 1: CLEANSE | DAILY AM & PM Skin Smoothing Exfoliator
Prepare your skin for advanced acne-clearing treatment by smoothing away excess dirt, oil, and other impurities.
Apply a large coin-sized amount to dampened skin.
Gently massage in circular motion for 1-2 minutes.
Rinse thoroghly with warm water and pat dry.

STEP 2: TREAT | DAILY AM & PM Pore Targeting SOLUTION
Stop acne at its source with this formula designed to deliver blemish-fighting medicine directly into the pore.
Apply a minimum of 2 pumps to clean, dry skin
Gently smooth over entire face—do not rinse off.
Allow to fully absorb before proceeding to Step 3.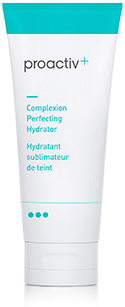 STEP 3: REPAIR | DAILY AM & PM Complexion Perfecting Hydrator
This medicated moisturizer WON'T clog pores - but will help calm redness, brighten tone and fade the appearance of post-acne marks.
Apply a minimum of a large coin-sized amount to dry skin.
Gently smooth over entire face—do not rinse off.
Allow to absorb.
If going outside, also apply a sunscreen of SPF 15 or higher.
How to use your Proactiv+ 3-Step System
Boost the power of Proactiv+ by following these simple steps
Your First Six Weeks Using Proactiv+
A Week-by-Week Guide
Congratulations! You are about to start your clear skin journey with Proactiv+. We can't wait for you to enjoy the beautiful complexion you deserve. As you begin your transformation, we want to give you an overview of what you can expect in the coming weeks
Your skin is getting acclimated to your new products and adjusting to your daily Proactiv+ routine
You might experience some dryness and slight irritation (Not to worry! This is normal and should subside soon)
Pro Tip: As with any acne product, be sure to use a sunscreen of at least SPF15 every day to keep your skin protected.
80% of Proactiv+ users saw results after just two weeks (It's that fast!)
Skin's texture is becoming more smooth
Pores may start to appear smaller
You may still be experiencing some dryness as your skin continues to balance out. Stick with the program!
You should be falling into your new skincare routine, and it's beginning to feel second nature. You're getting the hang of this!
Your skin is starting to adjust to the treatment
You may notice blemishes healing faster at this point
You've completed your first month using Proactiv+ and your routine is now a no-brainer. Well done!
Your skin tone is starting to look more even and radiant
Your skin may start to feel softer and more smooth
Reminder: Ready to head off to school or work? Did you moisturize and put on sunscreen? If not, apply some now!
Your skin is starting to look healthier and more hydrated
Breakouts are starting to clear
Skin feels softer and clarity is more evident day after day
You're starting to enjoy more clear skin days!
Post-acne marks are starting to fade
Skin appears more radiant, and your complexion may even be glowing
Congratulations! You should now be starting your maintenance mode daily routine!
Reminder: Just because you aren't dealing with blemishes daily doesn't mean you should stop using Proactiv+. It's important to keep up with your routine so you can continue to enjoy your awesome clear skin results.
DESCRIPTION
Clear acne with the power of Rx, without a doctor's visit. After 30 years as a prescription-only acne-fighter, the retinoid Adapalene takes center stage in our newest innovation – ProactivMD, the complete healthy skin regimen which includes cleansing, toning, hydration and sun protection, all in one easy-to-use, benzoyl peroxide-free system.
Benefits
Cleans and gently exfoliates the skin with tiny exfoliating beads
Helps unclog pores and minimizes the appearance of pores
Helps balance the skin's pH
Provides UVA/UVB protection
Helps control shine
First FDA-approved over-the-counter topical retinoid* for acne treatment
Dermatologist developed and tested
How to Use
ProactivMD is designed to be used consistently for best results.

DAILY AM & PM: Deep Cleansing Face Wash

Use twice daily, morning and night. Treat your whole face avoiding eye area. Apply a generous amount to dampened skin and gently massage with fingertips for 1-2 minutes. Rinse thoroughly with warm water.

DAILY AM & PM: Balancing Toner

Apply to cleansed skin with a cotton ball or pad in an upward motion, morning and night as needed, allowing Balancing Toner to dry before moving on to the next step. If irritation or sensitivity develops, discontinue use and consult a doctor.

DAILY AM: Daily Oil Control Moisturizer SPF 30

Apply to face and neck as needed. Can be used under makeup. Apply liberally prior to sun exposure. Reapply at least every 2 hours. Children under 6 months: ask a doctor.

DAILY PM: Adapalene Gel 0.1%

Adults and children 12 years of age and older: Use once daily. Clean the skin gently and pat dry before applying the product. Cover the entire affected area with a thin layer. Children under 12 years of age: ask a doctor.
INGREDIENTS
Deep Cleansing Face Wash

Ingredients: water, cocamidopropyl betaine, distearyl phthalic acid amide, polyethylene, cetyl alcohol, stearyl alcohol, jojoba esters, ammonium laureth sulfate, camellia sinensis leaf extract, aloe barbadensis leaf juice, menthol, butylene glycol, PEG-120 methyl glucose dioleate, sodium hydroxide, disodium EDTA, phenoxyethanol, methylparaben, ethylparaben, butylparaben, propylparaben, isobutylparaben, fragrance, chromium hydroxide green.

Balancing Toner

Ingredients: water, hamamelis virginiana (witch hazel) water, polysorbate 20, aloe barbadensis leaf juice, rosa canina fruit extract, anthemis nobilis flower extract, hamamelis virginiana (witch hazel) leaf extract, panthenol, glycerin, hydroxyethylcellulose, sodium PCA, tetrasodium EDTA, benzoic acid, citric acid, benzophenone-4, imidazolidinyl urea, methylparaben, propylparaben, phenoxyethanol, fragrance, blue 1, yellow 5.

Daily Oil Control Moisturizer SPF 30

Active Ingredients: avobenzone 3%, octisalate 5%, octocrylene 7%

Inactive Ingredients: water, isopropyl lauroyl sarcosinate, glycerin, dimethicone, diisopropyl sebacate, polymethyl methacrylate, aluminum starch octenylsuccinate, sucrose tristearate, silica, pentylene glycol, polysorbate 61, dimethiconol, sodium stearoyl glutamate, phenoxyethanol, caprylyl glycol, tocopheryl acetate, glycyrrhetinic acid, panthenol, triethanolamine, allantoin, carbomer, potassium sorbate, zinc gluconate, xanthan gum, disodium EDTA, hydroxypalmitoyl sphinganine.

Adapalene Gel 0.1%

Active Ingredient: Adapalene 0.1% (retinoid)

Inactive Ingredients: carbomer 940, edetate disodium, methylparaben, poloxamer 182, propylene glycol, purified water, sodium hydroxide.

May contain hydrochloric acid to adjust pH.
How's it going?
Proactiv+ users share their results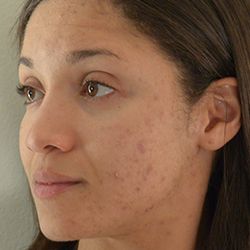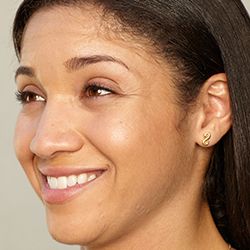 Celia B, 28
"For someone who has had acne since she was a kid I will tell you it works...it's cleared up my skin and now I'm really, really happy."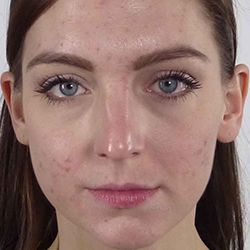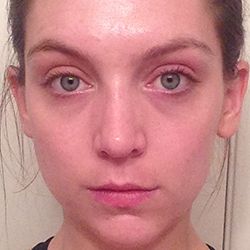 Alexandra W, 29
"Now I can just go out the door and not have to worry about wearing foundation or concealer."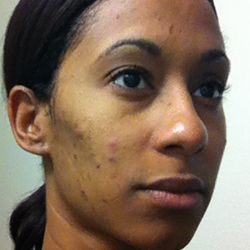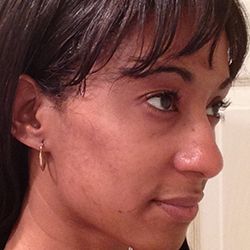 Kerry-Ann E, 36
"[It's] really easy to use…It's just washing my face, putting on treatment, the hydrator and then I'm gone."
Results will vary