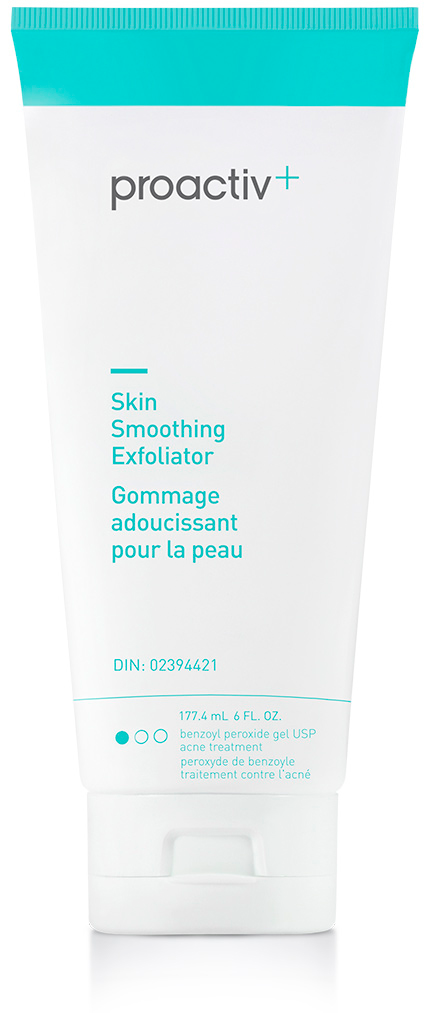 SKIN SMOOTHING EXFOLIATOR
With gentle exfoliating beads, glycolic acid and micro-crystal benzoyl peroxide, this creamy wash deep cleans skin of excess oil and dirt, tones and starts fighting acne breakouts while helping to leave your skin soft and smooth.
---
SPECIAL INGREDIENTS
Benzoyl Peroxide (2.5%): Micro-crystal, clinical strength, acne medicine designed to quickly kill acne-causing bacteria on contact, helping to clear acne blemishes and prevent new ones from forming
Pore Resurfacer: Gentle exfoliating beads work together with glycolic acid to slough away dulling layers of dead skin cells, helping to clear pores and prepare them for Step 2.
Moisture Complex: A combination of a humectant and an emollient is designed to help retain moisture, and to leave skin feeling smooth, soft, supple and hydrated after cleansing.
Mild Cleanser: Naturally derived sulfate-free cleansing agents are designed to gently remove dirt, sweat, makeup and other impurities from skin.
---
SPECIAL FEATURES
Mild cleanser washes away pore-clogging impurities
Micro-crystal benzoyl peroxide (2.5%) kills acne-causing bacteria
Creamy, lightweight texture
Flip-top squeeze tube ideal for sink or shower
Non-greasy
Sulfate-free
Paraben-free
Noncomedogenic so it won't clog pores
Suitable for all skin types - oily, dry, combination, normal and sensitive
Soothing moisturizers leave skin feeling soft and supple

PORE TARGETING SOLUTION
Proactiv+ is the only acne treatment with Smart Target® technology. This breakthrough technology can deliver 2X more acne-fighting benzoyl peroxide into the pore, where acne starts. It starts killing acne bacteria on contact and disrupts the acne process to help prevent new pimples from forming. With more medicine in the pore and away from the skin's surface, Proactiv+ fights acne blemishes at a deeper level to help minimize dryness and irritation.
---
SPECIAL INGREDIENTS
Smart Target® technology/Benzoyl Peroxide (2.5%): Encapsulation technology zeros in on the oil rich environment of pores, slowly releasing BPO, to kill acne-causing bacteria in the pores over a longer period of time
Glycerin: Powerful humectant designed to help the skin retain moisture
---
SPECIAL FEATURES
Exclusive Smart Target® technology targets pores
Benzoyl Peroxide (2.5%)
Encapsulated medicine is time released to help optimize efficacy
Airless pump makes it easy to dose dispense the correct amount
Lightweight, non-greasy, fast-absorbing
Paraben-free
Noncomedogenic so it won't clog pores
Suitable for all skin types - oily, dry, combination, normal and sensitive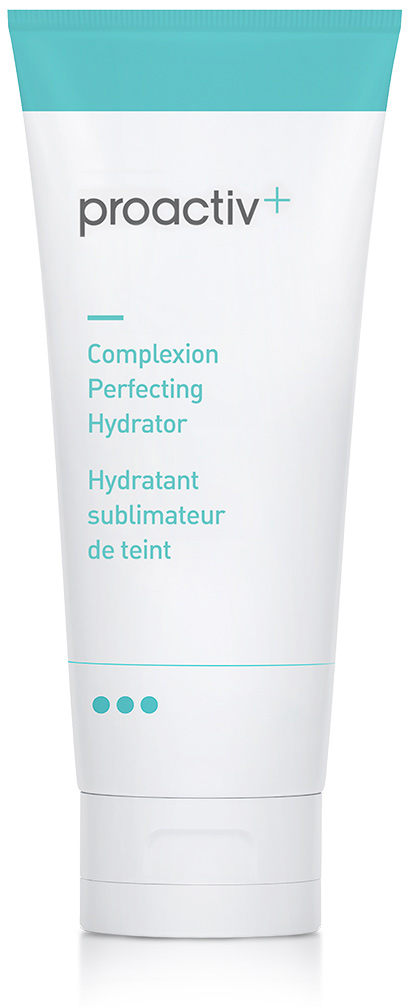 COMPLEXION PERFECTING HYDRATOR
This luxurious, velvety, paraben-free formula uses a gentle yet powerful combination of salicylic acid, omega-6 ceramide and skin brightening botanicals like kojic acid, licorice extract, sophora root and bearberry to help keep pores clear of cellular debris as it nourishes, moisturizes, soothes and brightens the skin. Our facial moisturizer reduces the appearance of pore size, visibly relieves the look of redness, irritation and oily shine and helps fade the look of dark marks.
---
SPECIAL INGREDIENTS
Salicylic Acid: Helps clear pores of cellular debris and keep them clear – thereby making pores look smaller.
Skin Brightening Complex: Natural skin brighteners, such as, kojic acid, licorice extract, bearberry and sophora root, are used to help fade the appearance of post-acne marks and uneven skin tone.
Moisturizing Complex: Includes a powerful humectant, hyaluronic acid plus other hydrating ingredients to help alleviate dryness for softer, smoother-looking skin.
Skin Conditioning Complex: Specialized skincare ingredients, like bisabolol (from chamomile) are incorporated to help soothe and calm redness and irritation.
Skin Mattifier: Designed to help reduces excess oil and shine.
Nourishing Prebiotic: Designed to help keep skin balanced.
---
SPECIAL FEATURES
Salicylic acid
Lightweight, luxurious texture
Addresses issues of acne-prone skin including dryness, irritation, uneven skin tone, post acne marks, excess oil, shine, redness, blotchiness, large-looking pores, dull, ashy complexion
Non-greasy
Paraben-free
Noncomedogenic so it won't clog pores
Suitable for all skin types - oily, dry, combination, normal and sensitive